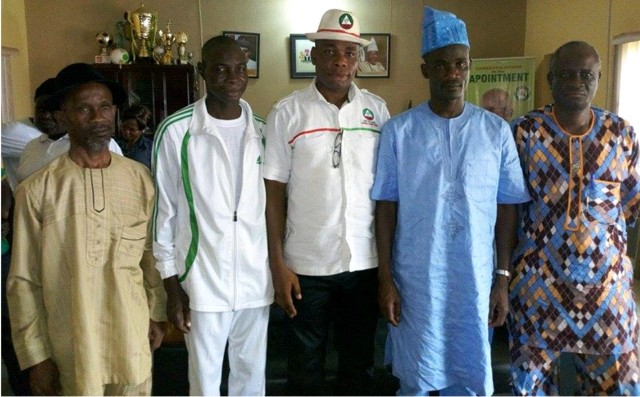 The Ogun State government has appealed to the National Sports Commission (NSC) to include MuayThai sports as a medal scoring martial arts sports in any sports festival.
Commissioner for sports in the state, Afolabi Afuape made the appeal when MuayThai Federation of Nigeria (MFN) paid him a courtesy led by its president, Comrade Paul Egonu, in his office, on Wednesday, at MKO Abiola International stadium, Kuta, Abeokuta.
According to him, MuayThai sport will be a great asset for Nigeria if well harnessed, saying that their state has concluded plans to expose its athletes to the technical knowledge of the sport to ensure that they clinch all medals in different categories at the forthcoming MuayThai National Open National Championship scheduled to hold in the state next month.
"We have concluded plans to ensure that our athletes undergo training and expose them to the technical knowledge of the sport. Athletes in various states are fast learners, what is required is to know the technicalities involved in the sport.
"I assure NSC that once MuayThai is registered as a medal scoring sport, Ogun State will clinch the highest medal allocated for the sport" Afuape said.
Earlier, the National President of MuayThai Federation, Comrade Paul Egonu, said that the visit was to honour the former president of the federation late Prince Samson Adeleji,  the pioneer  president  of MFN who started the development of MuayThai in the country, but did not actualised his dream for the association before he died.
He explained that MuayThai was a highly disciplined sport that has the capacity to reduce youth restiveness in the country.
" MuayThai is not just an ordinary martial arts sport, because  as a MuayThai athlete you will go through training that involve discipline, Comrade Egonu said.
The MFN president further revealed that the association had concluded arrangement to host technical workshop for MuayThai referees   and Open National Championship, saying that Kickboxing and Taekwondo are related spots. He noted that 28 states were currently practicing the sport in various categories in the country, saying that the sport has been in existence for the past 15 years.
Tonye Orabere
Please follow and like us: